The Name Game: Sports Facility Naming Rights and Sponsorships
Herrick, Feinstein LLP
2 Park Avenue
New York City
Corporations spend more than $60 billion on sports sponsorships every year – and that number continues to rise. Savvy executives know that these partnerships can be very valuable, when executed and managed correctly. Herrick's Sports Law Group hosted industry experts for a lively conversation on naming rights and the sports sponsorship market. Panelists discussed recent high-profile deals, new strategies companies are using to increase fan awareness and engagement, and key business considerations when contemplating a sponsorship or naming rights transaction.
Moderator:
Terry Lefton, Editor-at-Large, SportsBusiness Journal and Sports Business Daily
Speakers:
Hymie Elhai, Senior Vice President, Business Affairs and General Counsel, New York Jets
Abby Elu, Marketing Manager, Mainstream RTS Soup Activation, Campbell's Soup Company
Chris Lencheski, Vice Chairman and CEO of IRG Sports + Entertainment - a TPG Specialty Lending Company
Irwin Kishner, Partner, Herrick, Feinstein LLP
Jared Bartie
Connect with us on Twitter: @HFsportslaw.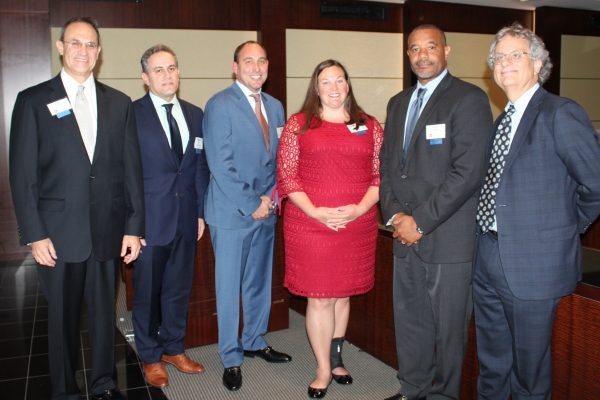 From left to right: Irwin Kishner, Hymie Elhai, Chris Lencheski, Abby Ely, Jared Bartie and Terry Lefton.