We give talented lawyers the opportunity to practice law in a unique and collegial environment not found at larger firms.
Instead of the traditional lock-step advancement, our associates are promoted according to a merit-based level system which exposes them to challenging assignments early in their career.
At Herrick, you'll have the opportunity to advance your career at an accelerated pace. And you won't just find a job—you'll find a home.
---
Herrick's Chief Operating Partner, Barbaros Karaahmet, was profiled in Law.com's Mid-Market Report Q&A series. This series features midsize law firms around the country and highlights how they are innovating in an ever-changing legal landscape.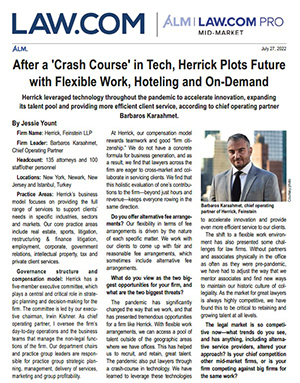 Legal ranking publication Vault named Herrick, Feinstein in the top 10 of its list of Best Midsize Law Firms in New York as well as placing in the "Top 150 Under 150" list. Vault's profile states, Herrick "doesn't follow the same lockstep advancement system as many of its peers, instead evaluating associates based on performance."
Associates rate the reputations of peer firms in their own region. These rankings reveal the most prestigious midsize law firms by region across the U.S. Vault's 2024 Rankings are derived from Vault's Annual Associate Survey conducted from January 2022 through March 2023.