The Turkevi Center, An Important and Symbolic Addition to New York's Skyline Officially Opens
September 23, 2021
– Herrick News
Herrick, Feinstein LLP
Herrick has had the privilege of representing the Republic of Turkey in the development of the Turkevi Center, a landmark New York City mixed-use skyscraper that will serve as home to Turkey's permanent mission to the United Nations and the Turkish Consulate General. This is the largest real estate project Turkey has outside of her borders. This symbolic skyscraper is rich in Turkish symbolism and reflects Turkish culture, history and diversity. The center sits across from the UN headquarters, and is set to become a center of Turkish culture in the United States. Turkey's President Recep Tayyip Erdogan spoke at the historic opening ceremony this week, which was also attended by many delegates from Turkey and the UN.
In the course of our multi-year representation, Herrick attorneys have advised on a spectrum of real estate matters including government relations, real estate development and construction, leasing, land use and zoning.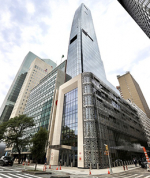 ---
For any questions or additional information, contact us below.
Barbaros M. Karaahmet at +1 212 592 1570 or [email protected]
William R. Fried at +1 212 592 1684 or [email protected]
Brendan Schmitt at +1 212 592 1689 or [email protected]