Herrick has been serving as a trusted legal advisor to high-net-worth families, single- and multi-family offices and family businesses for decades. Our comprehensive Family Office team collaborates across practice groups to service the multi-disciplinary requirements of family office clients. Herrick is a one-stop shop for the legal needs of a family office providing everything from structuring and tax guidance to legal services and advice around the family office's investments, operations and objectives. Additionally, Herrick often acts as private general counsel, providing a high-touch and dedicated point of contact to coordinate and address legal issues as they arise.
Family offices are as unique and multifaceted as the families they represent. Our experienced lawyers work to understand the context of the family's values and dynamics in offering a full suite of legal services. We work to address specific concerns including structuring and governance issues, organizational issues, investment management, succession planning, governance issues, tax and estate planning, risk management and compliance, as well as achieving philanthropic and legacy goals.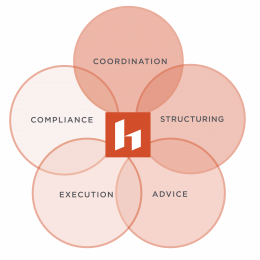 The Intersection of Structuring, Advice and Execution
Herrick merges the fundamental legal and regulatory advice needed for the investments and operation of family offices with our specialty practice areas in real estate, tax, sports, investments and art. Herrick's lawyers are focused on helping clients preserve their wealth and structure their businesses to continue through any type of transition. Family businesses rely on our ability to quickly gain an in-depth understanding of the interpersonal dynamics of their family and their values, enabling us to compassionately counsel and guide families in numerous capacities.
Creating Connections
We take pride in facilitating opportunities for established SFOs and MFOs to share knowledge and best practices with their peers. Herrick produces and participates in programs that facilitate knowledge sharing among family offices, as well as a link to other professionals servicing the industry, from asset managers to organizational psychologists. Herrick's roots are also deeply tied to real estate, and as such, we are able to confidently refer clients and contacts to valuable real estate connections when needed. Whenever possible, we add value by introducing clients to joint venture partners, financing sources and investment opportunities as well.
Global Reach and Approach
Our lawyers are comfortable with the complexity and opportunities provided by international families. We often coordinate inbound and outbound transactions, utilizing our strong international tax and transactional capabilities, as well as our robust international practice with contacts and capabilities all over the globe.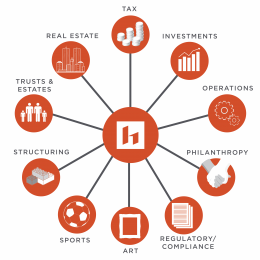 Areas of Focus
Family office organization
Business succession and governance structures
Tax structuring including personal tax, estate planning and wealth transfer
Family relationship management including the entities, contracts and agreements that govern business relationships
Asset management negotiations and similar industry service agreements
Investment negotiation and execution including private equity and hedge fund investments, seed and early-stage investment structures, direct investments, acquisitions, joint ventures and divestitures, and distressed and illiquid investments
Extensive experience with Executive Compensation, Sports and Art
Regulatory and compliance advice
Litigation and arbitration
Business divorce
Philanthropy including charitable trusts, private foundations and not-for-profits
Asset classes including Real Estate, Art, Intellectual Property and Investments