Appealing
I am far from being a professional food critic or restaurant insider, but discovering restaurants that offer innovative or delicious cuisine is a passionate hobby of mine. In Appealing, my "foodie" newsletter, I cover everything from upscale culinary experiences to trendy new burger joints and "speak-easy" bars, all with the goal of uncovering some great venues for you to enjoy. In the first issue of Appealing, you'll find a few noteworthy newcomers within walking distance of Herrick's Two Park Avenue office.
---
The Clocktower
5 Madison Avenue (@ E. 24th St.)
212.413.3000
theclocktowernyc.com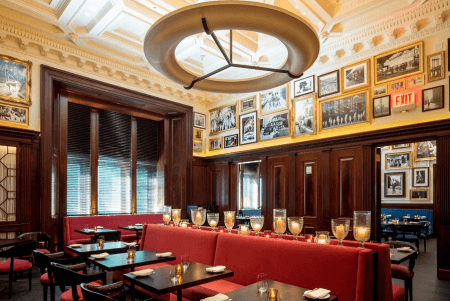 Last May, Philadelphia restaurateur Stephen Starr (Buddakan) opened The Clocktower in Ian Schrager's Edison Hotel, just steps from Madison Square Park. The former offices of a MetLife chairman, the clubby, mahogany-walled three dining rooms, with a separate bar and billiards parlor, feels historic, like a time travel back to the 1920's. Vintage black & white photos of celebrities from the 1950's, 60's and 70's, and iconic New York scenes in gold frames adorn the walls and provide a conversational digression from the culinary experience.
The dinner menu is eclectic, characterized as English contemporary. The mains consist of a mix of fish (dover sole, salmon and halibut), steak (NY strip, filet mignon and skirt), and fowl (duck and whole roasted chicken for two), with a spattering of other more unique meats (rabbit and venison). The lunch menu offers classic fish and chips, a bacon cheddar burger and macaroni + cheese for adults, as it is mixed with ox cheek and wild mushrooms. This is not the restaurant for the vegetarian or the diner who prefers lite-fare. The food is hearty, the sauces complex, and the flavors exciting to the palette.
The libations are distinctive, with ingredients you would not think to mix with spirits, like Cheerios milk, smoked salt solution, and chicken stock. Yet, the recipes work together to enhance the dining experience.
The Clocktower is open for breakfast, lunch and dinner, and even at its busiest time, you can speak softly to your guest and be heard. Dinners run between $14 for a salad and $37 for a dozen oysters, and entrees are mainly in the $35 and up. Lunch mains, other than a vegetable tartine, are between $25 and $37, but a 3 course prix fixe menu for $39 is a deal if the offerings are appealing.
Food-

Price-
Service-
---
Upland
345 Park Avenue (@ E. 26th St.)
212.989.4180
uplandnyc.com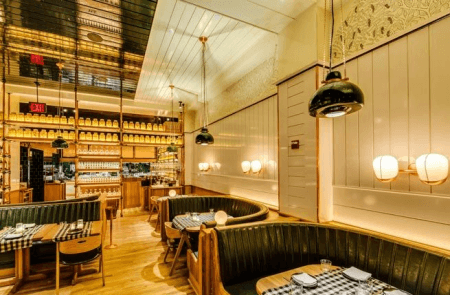 Another Stephen Starr restaurant that opened in October 2013, Upland is California-inspired, mixing ingredients you are unlikely to have on hand in your cupboard or refrigerator. The menu offers personal pizzas but not the kind you find at California Pizza Kitchen, as these feature Brussels sprouts or sausage + kale as your toppings, and pastas, also unique in variety, such as estrella with chicken liver, and spaghettini with bottarga di muggine, a salted cured fish roe. There are more benign offerings on the dinner menu such as branzino, Amish chicken and short rib for two. The lunch menu also offers pizza, pasta, and sandwiches such as grilled chicken, roasted porchetta, and kale + stracciatella.
The food sometimes misses the mark, the pasta was overcooked at times, and the bread not quite as fresh as it should be, but this place is hopping day and night and getting a reservation is not easy, although when President Obama took his daughters there for brunch last July somehow they squeezed him in and sat him without a reservation. Hmmm.
Food-
Price-
Service-
---
Marta
29 East 29th St. (@ Park Ave.)
212.651.3800
martamanhattan.com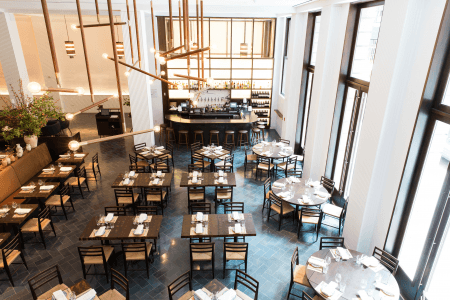 Marta, Danny Meyer's first restaurant in the newly named Nomad district ("North of Madison Square Park" and below Murray Hill), is Pure Italian, Roman style. Located in the Martha Washington hotel, which opened in 1903 and was recently redesigned by King & Grove, Marta is a casual, laid back restaurant with an ultra cool vibe, a mere four blocks from Two Park.
Marta has a very limited menu with almost identical listings for lunch and dinner, with prices more palatable for lunch, featuring several selections of pizze rossi and pizze bianche (with a red sauce and with a white sauce), and a variety of vegetarian antipasti, both grilled and specialties of the house, like risotto croquettes, crispy sunchokes, and squash with quinoa.
The room has a very high ceiling which makes conversation somewhat difficult. While the prices are quite reasonable, the portions are somewhat small. This is not about the food which is often bland and unimpressive; it is about being at an affordable Meyer restaurant in a neighborhood that is known to be up and coming in the world of real estate development where nondescript rundown buildings are being demolished and replaced with boutique hotels and 30-story residential condominiums.
This is the go-to restaurant if you want to seem like you are hip to the NYC restaurant scene but forego if you're trying to have a quiet conversation.
Food-
Price-
Service-
---
Black Barn
19 East 26th St. (between Madison and 5th)
212.265.5959
blackbarnrestaurant.com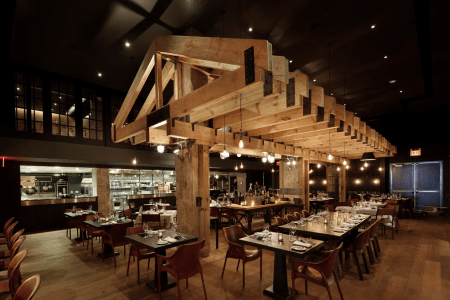 Black Barn, which opened in September of last year, is a farm-to-table restaurant with a large bar area and a dining room featuring farmhouse rafters, unfinished oak floors, black wooden table, and an open kitchen. The space, which has four private dining rooms perfect to host a closing dinner or small group of clients, succeeds in all respects.
The vibe is welcoming, the menu diverse, and the noise level perfect to talk business or enjoy everyday conversation. There are several options for the pescatarian, such as grilled swordfish, olive oil poached cod, and pan seared scallops, an array of meats (rack of lamb, rib-eye and red wine braised oxtail), and the portions are reasonably satisfying.
Black Barn has not yet perfected the importance of a waiter's attention to the diner, but they are trying. When they are available they are attentive, but on several occasions they seemed a bit understaffed, yet very apologetic when made aware.
The lunch menu is similar to the dinner menu, with some vegetarian options like a garden salad + cheese soufflé, curried cauliflower steak, and ricotta gnocchi.
Food-
Price-
Service-
---
La Pecora Bianca
1133 Broadway (@ E. 26th St.)
212.498.9696
lapecorabianca.com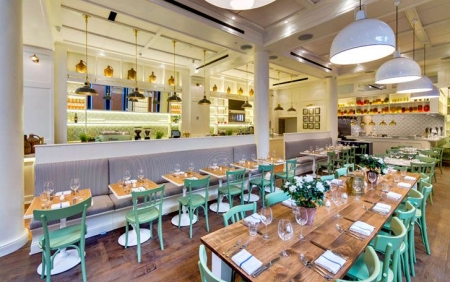 La Pecora Bianca, which opened in August of last year, focuses on classic Italian recipes using locally sourced and seasonal ingredients. Housed in the former home of the Havana Tobacco Company in the St. James building, La Pecora Bianca retained the distinctive marble columns and staircase and added oak plank floors and custom wooden tables and wall tiles to give you the feeling that you are eating in a farmhouse in Tuscany.
The restaurant prides itself on its homemade pastas, most of which contain some kind of pork, and offers only five other mains for dinner. The lunch menu is even more limited but has a robust selection of vegetarian salads all at $15, any of which can include chicken or shrimp at an extra charge.
The vibe at La Pecora Bianca is friendly and casual and the large windows on two sides of the restaurant keeps it bright, even at night when the street lamps are shining. While the surrounding shops are low end wig salons, NYC souvenir shops, cellphone case storefronts, with the proliferation in the last year of dining establishments and boutique hotels, this is quickly becoming the "go to" destination for those seeking the newest trendy eatery.
Food-
Price-
Service-